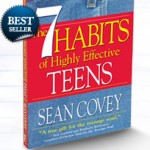 Sean Covey's book is a tremendous resource for accelerating learning and key life skills in your teen.
CHESS is delighted to share a one-page summary of these 7 Habits with you: 7 Habits of Highly Effective Teens.
Also, when you open the PDF, you will also find a link to the book's companion website.